Brighton Dragon Boat Club: Making waves since 2007!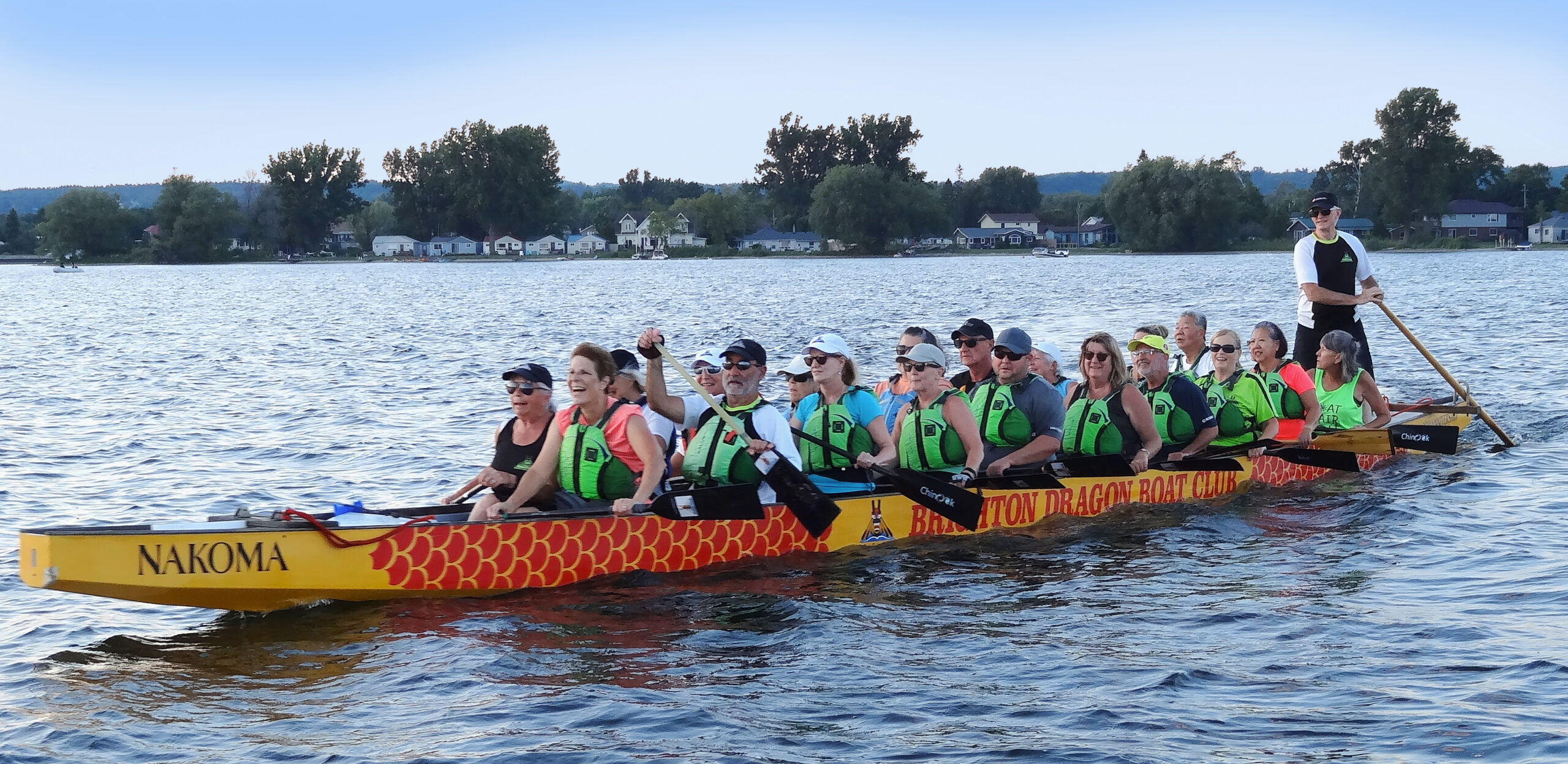 Brighton Dragon Boat Club is proud to say that post Covid-19, we are back and aiming to be better than ever! If you would like a great way to get to know people in your community, learn a new skill and improve your fitness while enjoying the beauty of Brighton Bay, look no further!
Our aim is to nurture a safe and healthy water sport that contributes to the quality of life of residents of Brighton and the surrounding area. To that end, our community-based, not-for-profit organization will continue to offer a variety of levels of challenge. We welcome anyone age 12 and up, with mentoring and training offered for all levels of participation. We maintain an up-to-date set of equipment and offer free
"Try It" days. Our season runs from mid-May through September, providing 4.5 months of daily paddling sessions in addition to several special events, such as sunrise nature spotting, sunset paddles, an annual paddle and picnic down the Murray Canal and our annual Fall Excursion. Hosting and attending area paddling festivals may also be a possibility.
We are a volunteer run organization, with a keen Board of Directors and a squad of friendly, capable volunteer coaches and steerspersons. Over the years, 15 current and former members have gone on to compete and medal at the World Club Crew Championships. Some of those members are currently among our staff.
This year, to achieve our "better than ever" goal, our schedule will include additional evening and weekend paddle sessions to make our sport more accessible to community members unable to participate in weekday daytime paddling.
All our sessions will continue to include technical instruction; members will have opportunity to choose recreational sessions that focus on fun as well as sessions on Monday morning and Tuesday evening that, while still fun, focus on higher level technical and fitness training. For those adult paddlers of all ages interested in competitive paddling, two sessions per week, on Monday and Thursday evenings will focus on fitness and race preparation. These practices are of higher intensity.
Our boats go in the water in early May. We would be delighted to have you aboard!
For more information, stay tuned for our upcoming Open House in April. We also cordially invite you to visit us online at: www.brightondragonboat.ca
Facebook: brightondragonboatclubest2007
Instagram: @brightondragonboatest2007
Brighton Dragon Boat Club