From Mother Nature Straight to Market
Harry McMurter has run Charlen Farm – named after the initials of the first names of family – since 1987. Born in Belleville, Harry came to Brighton that year because he had a lot of relatives here: "I knew my old new neighbours," he said, laughing.
Harry has had a green thumb since age 8, when he "squirrelled" for apples. While in high school, he trained with a strict farmer-mentor: "I always liked gardening and had a good teacher." Currently, Harry grows beans, lettuce, kale, spinach, beets, 8 varieties of apples, pears, rhubarb and cut flowers. 
Charlen Farm is comprised of 43 acres with 5 under cultivation, certified organic for 16 years:
"I like to grow a healthy, good product; a lot of satisfaction in that, plus fresh air and the satisfaction in selling it to nice people. I like to keep busy so the gardening fits right in."
A hard worker, he wakes up at 6 am to start his day. Monday, Wednesday and Friday he weeds and waters till noon, then picks after lunch; that way, the product is fresher. Tuesday, Thursday and Saturday are selling days at Belleville's Farmers' Market.
Charlen Farm is listed on the Farm Fresh Destinations for Northumberland County. Environmentally friendly and with tasty products, Harry is a sustainable farmer qualified under MyPick™ assurance, that Farmers Market Ontario® visited and confirmed he is a bona fide local producer.
Often, the greens he sells at market are minutes out of ground. Sometimes he picks just before market, like spinach and lettuce. Customers often remark on the long shelf life of his romaine lettuce. Harry's products have neither pesticides nor herbicides. He uses minimal fertilizer, composts and does all his weeding manually. He combines hand watering with sprinkler irrigation.
During the COVID peak. the public had an extremely high interest in his products because of protocols attached to grocery stores whose shelves were often less full because of supply and demand. 
One cannot understate the value in buying local with respect to freshness, and not being bred for hardiness for travel: "Grocery store products are not necessarily local. Products coming in from places like Mexico, Africa and China that go through the United States and repackaged become products of the USA."
Also, "Buy Local" stimulates our economy, reduces our carbon footprint – all with nutritional value. Anyone wanting Charlen Farm goodies are better to contact Harry and do a pre-order; that way, they can have the produce ready for you.
"Recently, a local beekeeper placed his bees near our gardens and apple trees, The bees are on our zinnias, on the zucchini blooms and all the garden produce, increasing their yield – a wonderful sign for all concerned. We are pleased to include unpasteurized, unfiltered honey at our market table, proud to point to produce and flowers we sell and tell customers this is what these bees are feeding on. l
This year, Charlen Farm is offering Farm Gate sales at 52 Grandview Rd. There will be already picked, as well as selected pick your own. Honey, jars and comb made at this farm will also be on offer.
Vic Schukov is a novelist, book editor, journalism teacher, ghost writer, staged playwright and writer of biography books for everyday people. Profile suggestions?  Email [email protected]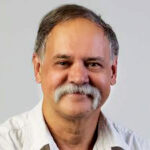 Vic Schukov is a novelist, book editor, journalism teacher, ghost writer, staged playwright and writer of biography books for everyday people.